Skelton Primary School Wraparound Care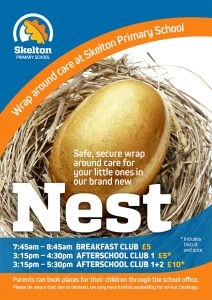 The Nest offers wraparound care for Reception to Year 6.
Breakfast Club
Doors open at 7.45am and although children can arrive any time before school starts, if you would like your child to enjoy a healthy breakfast, they need to be at the club by 8.15am. Food available: a range of cereal, toast and fruit. Cost: £5 a morning.
After School Club
This begins at the end of the school day. The club finishes at 5.30pm. Food available: Bagels with a choice of toppings, a biscuit snack, fruit and juice. Cost: Session 1 (until 4.30pm) – £5   Cost: Session 1 & 2 (until 5.30pm) – £10
Contact details:
You can contact the Breakfast and After School Club via:
Tel: 07922 524283
Email: hello@ske.hlt.academy
Please use this email or call the school office (01904 806285) to make bookings/cancellations.
To contact in an emergency or to let us know if you are going to be late picking up please use the mobile number (07922 524283).
Emails will be picked up Mon-Fri 0800-1600 term time only and our phone will only be checked Mon-Fri between 0730-0845 and 1515-1800.
You can still register your child and make bookings and cancellations through the school office and get a copy of registration forms or you can download the files below. All bookings are invoiced monthly and we are happy to accept payment via ParentPay, by childcare vouchers or child tax free account.
Skelton School Wraparound Care – Child Registration Form
Skelton School Wraparound Care – Welcome Pack & Booking Form
Breakfast and After School Club staff
Miss Sharron Marshall  |  Breakfast Club Playworker
Sharron is the Breakfast Club Playworker at Skelton as well as working in our Early Years Team. She provides a range of exciting and fun activities for children before school.
Mrs Seetha Colbert  |  After School Club Playworker
Seetha is our After School Club Playworker and works alongside Sharron and provides a caring and fun out of school club for children at Skelton Primary.
Breakfast and After School Club useful information
Childcare Choices
Did you know that Tax-Free Childcare is an online government service to help parents pay for childcare. For every £8 a parent pays into their childcare account, the government will add an extra £2 to their account. Parents can then use the money to pay for Out of School Club provision at Skelton Primary School. For further information about eligibility, please visit: www.childcarechoices.gov.uk
If you choose to set up a childcare account, please ensure that you let the school office know your unique reference number. Thank you.